Below is my family at my Grandmother's funeral in October 2006. She was three days shy of her 94th birthday when she died. She was a special person to all the family. Her faith in the Lord was a beacon for us all. A year before she died she told me that she had bought a new white dress that she would only wear at her funeral. She said that since she was going to meet Someone special, she wanted to look her best. During the service, when the organist played 'Amazing Grace", I thought of the verse, "my chains are gone, I've been set free". I then thought of my Grandmother. Now she was no longer confined to her frail body, for God had truly set her free. I suddenly felt more happiness for her, than I felt sadness for my loss. She was now soaring with the Angels, dressed in a beautiful white dress, on her way to that special meeting in the sky.
The location is Valley, Alabama. I took this picture to emulate one that was taken of the family in 1959 at the same cemetery (Fairview) when my great-grandmother passed away. I didn't know I would return a little over a year later.
Fairview Cemetery. Valley, Alabama. 2006
My Grandmother was buried next to her husband of 44 years. He passed away August 31, 1974. I wrote him a letter that year from overseas. I knew he was not well. In it, I told him how much he had meant to me and that I loved him. My Grandmother later told me that he began to cry as he read it. He died two weeks later. I have thanked God many times for moving me to write that letter.
Below is a picture of them in the 1930's. It was taken near the cotton mill in Riverview (now Valley), Alabama. I believe the child closest to them is my Mother. In the above photo she is third from the left in the front row.

My grandfather repaired radios and TV's in the 40's & 50's. My grandmother was a church secretary.
Sadly, my Mother passed away Christmas Day 0f 2007
While I was in Columbus and Valley during Christmas 2007, I felt that there was something warm and familiar in the air. I then realized it was because I was home. My Mother's body would soon be returning to the earth from which it came. Someday, so will mine. That earth needs to be the same as my forefathers lie in. I fully intend to return here to live my final days, just as those that came before me.
My Mother's funeral, 12/27/07.
The family together in Valley, Alabama. My wife and children were unable to attend.
After the family had departed, I drove back to Mama's grave. I stayed there for nearly an hour, just remembering her. Those images from when I was a child, to the last time I saw her, played through my mind over and over. She was the sweetest, most gentle person I have ever known. I will regret till I die that I was unable to see her again before she died. My plane arrived Christmas Day in Columbus, in a rain storm, nine hours too late. However, she did know that her little boy was coming to her side. It means a lot to me to know that. Someday, I will be by her side again. The next time it won't be raining, and I won't be late.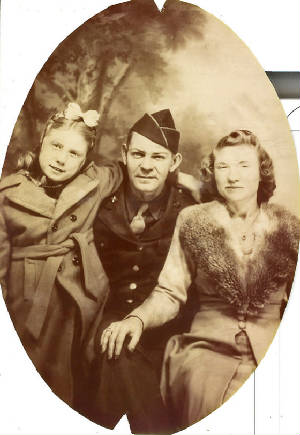 My Mother, Grandfather, and Grandmother. During WW2.
My Grandfather and Grandmother first met at this spot in 1931. This is the First Christan Church of Valley (Riverview), Alabama. I was married in this church fifty years later (1981). This is how it looked back in 31'. My great-great grandfather was a charter member in 1898 when the church first opened.
My Grandmother. Oct. 13, 1912 - Oct. 10, 2006
Columbus Ledger-Enquirer: Dorothy Nan York July 19, 1932- December 25, 2007 SMITHS, AL— Mrs. Dorothy Nan York, 75, of Smiths, AL passed away Tuesday, December 25, 2007 at St. Francis Hospital in Columbus, GA.
My Mother. Jul. 19, 1932 - Dec. 25, 2007
I am very blessed to have known and loved them.
After Mama's funeral, my Sister said to me that all the ones we considered the "old folks" of the family were now gone. She then said, "I guess we're the old folks now." She is right. This song is for the youngest members of our family. I hope you learn, as I did growing older, your family is all that really matters. I love all of you.
Turn this up Loud!

What does this mean to me?
My history, My Heritage, My Family.
However, I do not own this flag, I have never flown it, nor would I salute it. I support only one flag. The one I spent 21 years serving in the army. The flag of the United States of America. The greatest and best country in history.