The best commander/officer I ever knew. This picture was taken at an Officers vs NCO's softball game at the 8th Signal Bn in 1980. I was the home plate umpire. After calling a questionable strike on him, he turned to me and said, " Smitty, I have your NCOER on my desk for review right now." In 1983 I was seriously considering not re-enlisting. I had been a buck sergeant for six years because the cut-off score to Staff Sergeant was 999, the maximum. He called me from Fort Gordon and told me that the structure of a division signal battalion had been changed to add more Staff Sergeant positions for my MOS. Those with the most promotion points would be promoted first. He was as good as his word. I was promoted the following month. I will never forget that he took the time to do this. He passed away in 1994. A special room at Fort Gordon is dedicated to him.
A truly great soldier, LTG Mallette.
This is the Army's version of a race; wear your protective (gas) mask. This was taken on Organization Day 1978, at the 8th Sig. Bn. In the background, on the left behind the crowd, are two AN\GRC-103 radio antennas.

1st Plt A Co 8th Sig. I'm wearing the white jacket
1977
Promotions were always welcomed. 1983
E-6 at last! 3 years later I would be promoted again.
Receiving ARCOM from Bn Cdr, 124 Sig. Bn., 1983.
Friends, BBQ and Booze, Germany '77. Kuhberg Hill.
SYSCON 8th Sig. BN. System troubleshooting.
Above are pictured three outstanding Signal Officers. They are, front to rear, the Bn Cdr, XO, and S-3.The Cdr and XO would later become Lt. Generals, the highest rank possible for signal officers. The location is the SYSCON van during exercise "Constant Enforcer", in Germany during 1979. The unit is the finest I ever served in, the 8th Signal Battalion. The training I received here would pay off many times, especially when I was a platoon sergeant at 10th Mountain. For example, during the first FTX after 10th Signal activated, my platoon had several sites including a very large one. My new 2Lt was just following me around so it was my show for directing site placement. I set up the site the way we always did it in the 8th. The Bn Cdr came by for a short visit the first day. The next day, he ordered all Plt Ldr's and Plt Sgt's to our site and told them this is how a signal site should look. I was a little embarrassed, as I felt I had done nothing special. I just did what I was supposed to do. This was standard stuff in the 8th. My Lt. sure had a big grin on his face. He was learning. He became an excellent Officer and I last saw him, totally by chance, in 2005 in Alabama. He was a Lt. Col. then, and taking command of a battalion in Europe.

8th Signal Syscon van 1981. L to R, Bn Cdr, Bn XO. On the first field exercise after the above LTC assumed command, he came into Syscon about 2 hours after we had set up and asked me for the status of our division communications system. I told him that all systems and circuits were operational. He then said " Sergeant Smith, I think I'm going to like it here". Yeah, we were good and we knew it. When I left for Fort Carson a year later, he sent the following letter to my new Bn. Cdr. I appriciated this letter more than any award I ever received.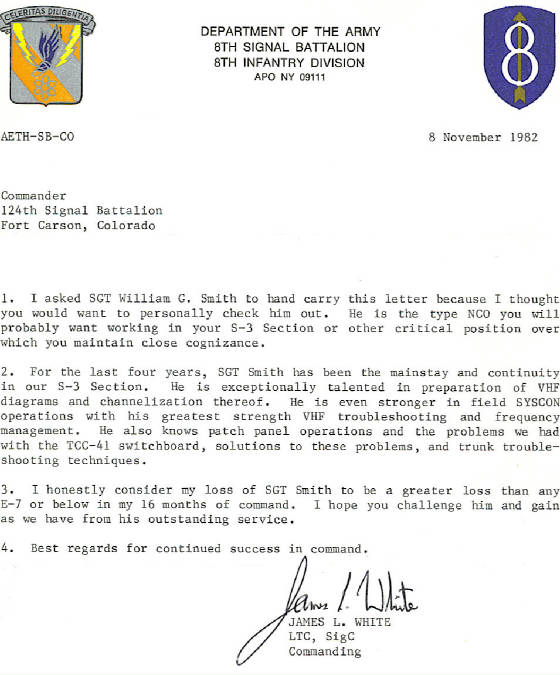 So it was right back into Syscon again. I was in Syscon in my last 4 units. I've told my XYL that I may have "SYSCON" written on my tombstone.
Below: The "BIG" Syscon. 7th Signal Brigade, 1984-87. We had to track over 2500 circuits from the USA, Great Britain, Italy, Spain, Belgium, and you name it. Of course there were also 7th Army HQ and two army corps. Everything from satellite, tropo, teletype, UHF, and landlines. The phone never stopped ringing. During Reforger 1990, when I was in the 10th Signal Battalion, I would train my young sergeants by showing them how to dial through the entire USAEUR tactical communications system, thanks to the training I received at the 7th.
Ft. Drum 1988. Company Party.
Wearing my 'Bama hat, as usual.
I got 14 blisters earning this thing. Light Fighter means lots of walking.
At Ft. Bragg in 1989. Field BBQ.
Fort Gordon again! I would go to Gordon only once more, for MSE training.
I was, and always will be; A soldier of the United States of America. 1984, Germany.
These are just a few of the many soldiers I served with. Most of them were great soldiers and great people also. Our nation is better (and safer) because of them.
Units I served in:
Basic Training-- Fort Knox, KY., 1972

AIT-- Fort Gordon, 1972

HHC, 30th ADA BDE, Okinawa 1972-1973--Worked shift at an Air Force radar site.
Co. D, 57th Sig. Bn., Fort Sill 1973-1974--Team member, radio relay.

Co. A, 122nd Sig. Bn., Korea 1974-1975--Team Chief, radio terminal.

HQ & HQ Cmd, Fort Jackson 1975-1976--Recreational services. Rented boats, campers, etc..

A Co., 8th Sig Bn., Bad Kreuznach 1976-1978--Team Chief, radio terminal.

HHC, 8th Sig. Bn., 1978-1982--Drivers Tng, Frequency/Circuits NCO SYSCON

HHC, 124th Sig. Bn., 1982-1983--Frequency/Circuits NCO SYSCON

HHC, 7th Sig. Bde., Mannheim 1983-1987--SYSCON
Completed PLDC 1984- 7th Army NCO Academy
B Co., 10th Sig. Bn., Fort Drum 1987-1988--Platoon Sergeant, 76 personnel male-only platoon called GP.
Completed ANCOC 1989- Fort Gordon NCO Academy

A Co., 10th Sig. Bn. 1989--Platoon Sergeant, 67 personnel Node platoon.

HHC, 10th Sig. Bn. 1989-1993--Frequency/Circuits NCO, S-3 Operations Sergeant, First Sergeant (acting), ADSO division frequency management NCO

Due to back and knee injuries, I retired on January 31, 1993. I enjoy my new job of teaching very much. It certainly is not as demanding as the military. But, I will always reserve a special place in my memory for my army days. General MacArthur was right, we really do just fade away. All of us.

Where it started.
Basic Training Dec. 71' - Feb. 72'.
But. those days are over.
I've been retired for over 20 years now.